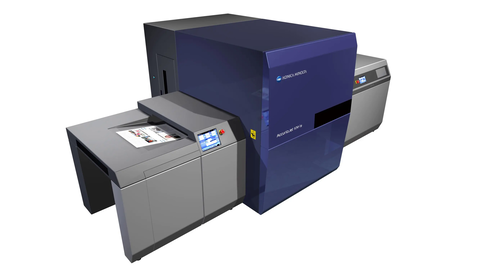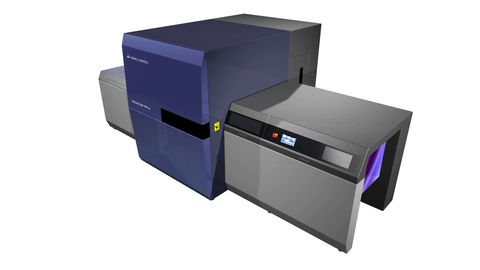 AccurioJet KM-1e
Discover Growth without Compromise


Creating a highly stable, colour-accurate digital press platform, the AccurioJet KM-1e now incorporates an even more advanced inkjet print head design with patented Dot Freeze Technology™ paired with unheard of versatility in offset substrate handling. Konica Minolta's latest digital UV inkjet press combines the print materials and stability characteristic of offset presses with the benefits of latest digital technology. Take advantage of media flexibility and zero make-ready for variable data printing and production on oversized B2 sheets.
---
Print speeds: 3,000 sph (single-sided)
Print speeds: 1,500 sph (double-sided)

Compatible with diverse media
Delivers consistent high quality printouts
Overview
Konica Minolta AccurioJet KM-1e
The AccurioJet KM-1e is a digital full color 29.5-inch sheet-fed LED UV InkJet press that offers print professionals' infinite possibilities. With the new KM-1e you will be able to deliver outstanding print output much faster than with offset or aqueous inkjet. Zero make-ready is required, and no drying time is needed. Since our UV light curing technology dries ink instantly, your images stay crisp and clean with superior color stability and consistency. With the KM-1e's expanded print job applications, reduced downtime, and greater flexibility, your productivity will be better than ever leading to diverse new projects and increased revenue streams.
---
---
Dot Freeze Technology – high quality inkjet printing with AccurioJet KM-1e
High productivity of up to 3,000 sheets per hour in simplex or 1,500 sheets per hour in duplex
Media flexibility with sizes of up to 585 x 750 mm, or B2+ size
Outstanding image quality 1,200 x 1,200 dpi output resolution
Print on various media types such as foiled paper, clear film and synthetic substrates
Increase the diversity of your application areas and potential for new business
---
PRODUCT SPECIFICATIONS – KM-1e
 Type

B2+ sheet fed UV inkjet press

 Resolution

1,200 x 1,200 dpi

 Ink

UV Ink

 Number of colours

4

 Printing speeds

3,000 sph (single-sided)
1,500 sph (double-sided)

 Sheet size

Up to 585 x 750 mm

 Sheet thickness

0.06 – 0.6 mm (single-sided)
0.06 – 0.45 mm (double-sided)

 Dimensions

5,400 (W) x 3,000 (D) x 2,400 (H) mm

 Machine weight

5,400 (W) x 3,000 (D) x 2,400 (H) mm
---
Download Brochure
For an obligation free demo or for more information about Konica Minolta's solutions, please email your requests to marketing.1@konicaminolta.com
Download Brochure