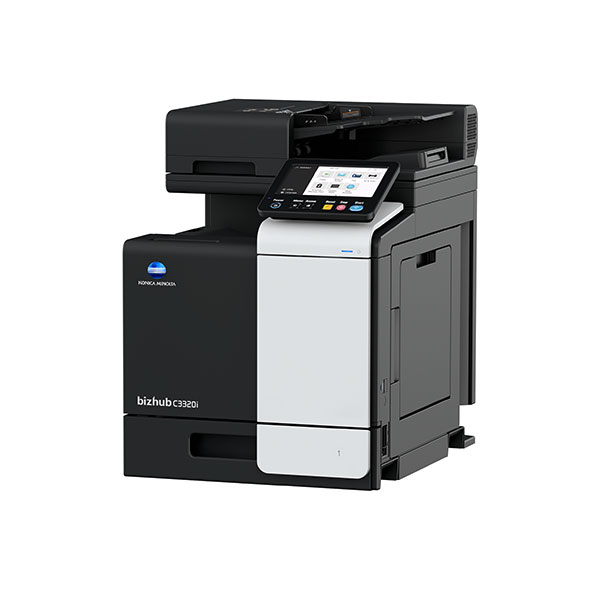 bizhub C3320i
A compact MFP pursuing ease of use and good design
---
Overview
New, easy-to-use panel design and UI for better operability
Adopting a large 7-inch touch screen, the operation panel has been redesigned to feature familiar smart device style operability. Simpler operation has been achieved by narrowing down functions and screen transitions to focus on frequently-used functions. The operation panel can also be tilted to suit individual users.
Compatible with a wireless LAN environment*
bizhub C3320i can be connected to a wireless LAN in environments that lack a wired LAN. It is compatible with simple AP (Access Point) Mode which can set up a local wireless LAN environment with only the main bizhub unit. A wireless LAN can be built separately from the company LAN. Because the separate LAN network bypass the company LAN, even mobile devices brought in from outside can be securely connected.
*Requires optional Upgrade Kit UK-221.
A compact body, 420 mm wide and 528 mm deep
Achieves a small footprint, enabling placement on a desktop or in tight office spaces.
Designed for a maximum paper feed capacity of 1,100sheets
bizhub C3320i offers an optional 500 sheet paper feed unit. Despite its compact body, it delivers substantial paper feed capacity with a maximum of 1,100 sheets, including 100 sheets of manual feed.
Standard equipped Single-pass, Duplexing Automatic Document Feeder
Equipped with a standard Single-Pass Duplexing Automatic Document Feeder, bizhub C3320i achieves high speed scanning at 56ipm. Risk of paper jams is also greatly reduced as the original does not need to be reversed during scanning.
SCAN & FAX
---
Diverse Scan Send functions
Offers a variety of sending methods including email, PC, FTP server, USB flash drive etc. This promotes smooth information sharing and a paperless environment. *File formats: JPEG, PDF, compact PDF, TIFF, XPS, compact XPS, and PPTX.
Stores received faxes in memory
Received fax data can be stored in the bizhub C3320i's memory. Printing after checking the data, or forwarding to an email address or PC, enables printing cost reductions and secondary use of data. *Requires FK-517 option.
Sorting received faxes
This function sorts received faxes and redirects them to shared folders or email addresses based on the sender's fax number (TSI routing). This reduces the effort needed for sorting received faxes and removes concerns about fax loss.
Forward TX function
This function forwards received fax data to a pre-specified destination (fax address, email address, shared PC folder etc.). Receiving a fax in data form reduces printing costs.
Paperless faxing (PC-FAX)
Faxes can be sent directly from a client PC via the bizhub, eliminating the effort and cost involved in printing the original to send a fax. This in turn helps to improve productivity and reduces TCO (Total Cost of Ownership).
*Windows only.
COPY & PRINT
---
High-speed 33 ppm (A4) output for colour and monochrome
In addition to a high-speed output of 33 ppm (A4), a standard duplex printing function enables highly productive and fast printing. The unit can also handle paper thicknesses up to 210 gsm, allowing a wider range of print applications to be printed.
Non-Image Area Erase function reduces toner consumption
When copying with the cover open, such as for thick books, the original is automatically detected and the shadowy area around the original is omitted. This reduces excess toner consumption.
Equipped with Card Shot function
When copying both sides of an irregular-sized original such as a license or business card, the front and back sides of the card can be automatically arranged to be printed on the same side of one sheet
USB direct print
After inserting a USB flash drive into the USB port located at the side of the operation panel, printing procedures pop up on the touch screen, and the data can be printed with a few easy steps. Compatible file formats: PDF, compact PDF, JPEG, TIFF, XPS, compact XPS, OOXML (.docx/.xlsx/.pptx), and PPML.
Duplex printing/Combine function reduces paper use
Duplex printing, and a Combine function that aggregates multiple pages onto one page (when copying: a maximum of 8 pages; when printing: a maximum of 16 pages) come as a standard. The resulting significant reduction in paper use is effective in reducing TCO (Total Cost of Ownership).
Standard equipped Windows/ Mac-compatible controller
Delivers high-performance printing, even in a mixed Windows/Mac network. Executes high-speed processing and high-quality printing of page description languages such as PCL, PostScript3 conversion, and XPS, and of file formats including JPEG, PDF, and OOXML.
MOBILE & CLOUD
Konica Minolta Mobile Print*1 connects with mobile devices
A simple and intuitive user interface enables easy connection between mobile devices and bizhub. Documents and photos stored in the cloud can be easily printed.
*1 The Android version can be downloaded from Google Play, iOS version from App Store and Windows 10 Mobile version from Microsoft Store. *Requires a wireless LAN environment to connect mobile devices to a network.
Compatibility with mobile print services
bizhub C3320i is compatible with a variety of smart phones and tablets' mobile print services.
*Some functions are only compatible in Classic Mode.
---
Download Brochure
For an obligation free demo or for more information about Konica Minolta's solutions, please email your requests to marketing.1@konicaminolta.com
Download Brochure