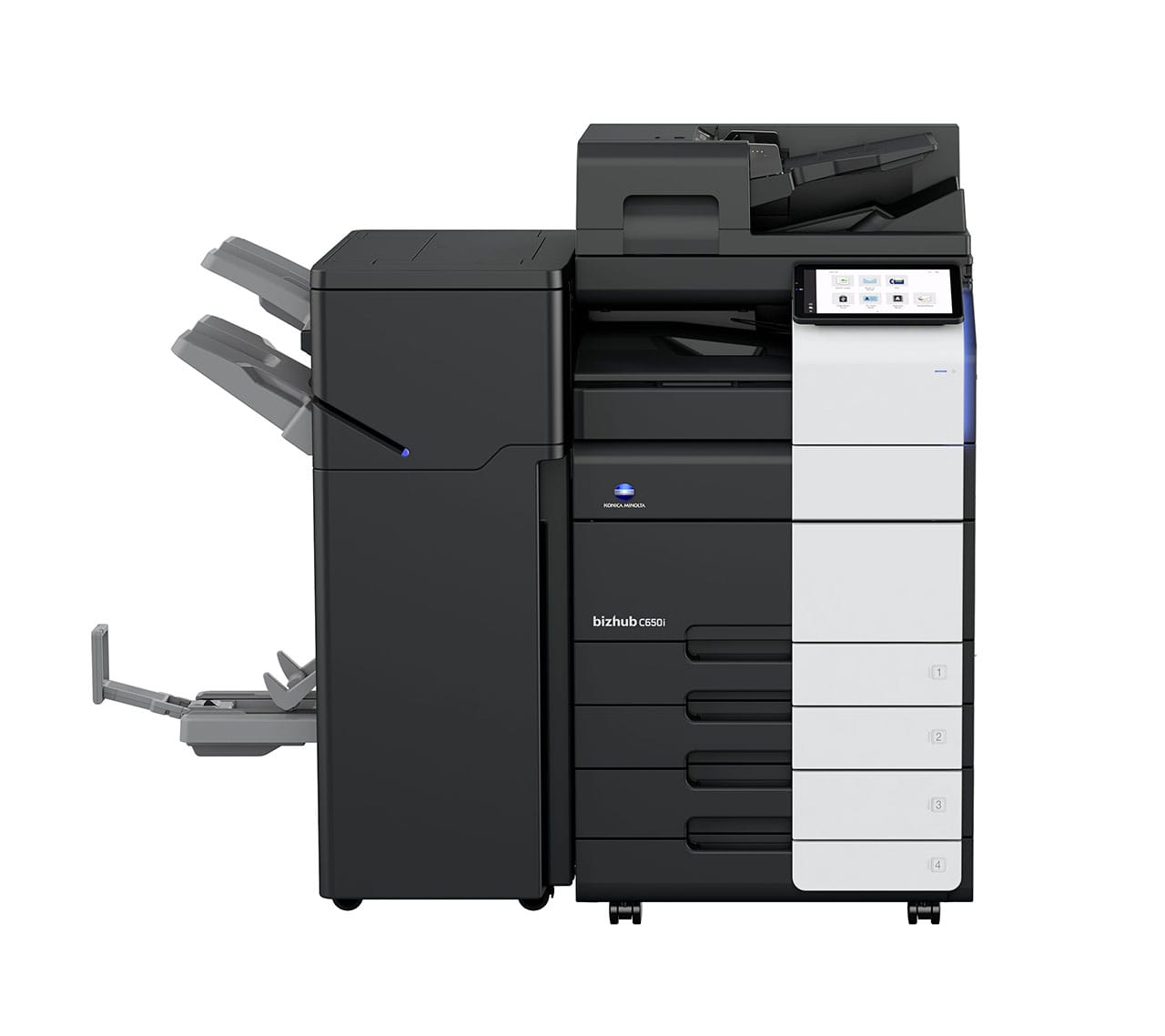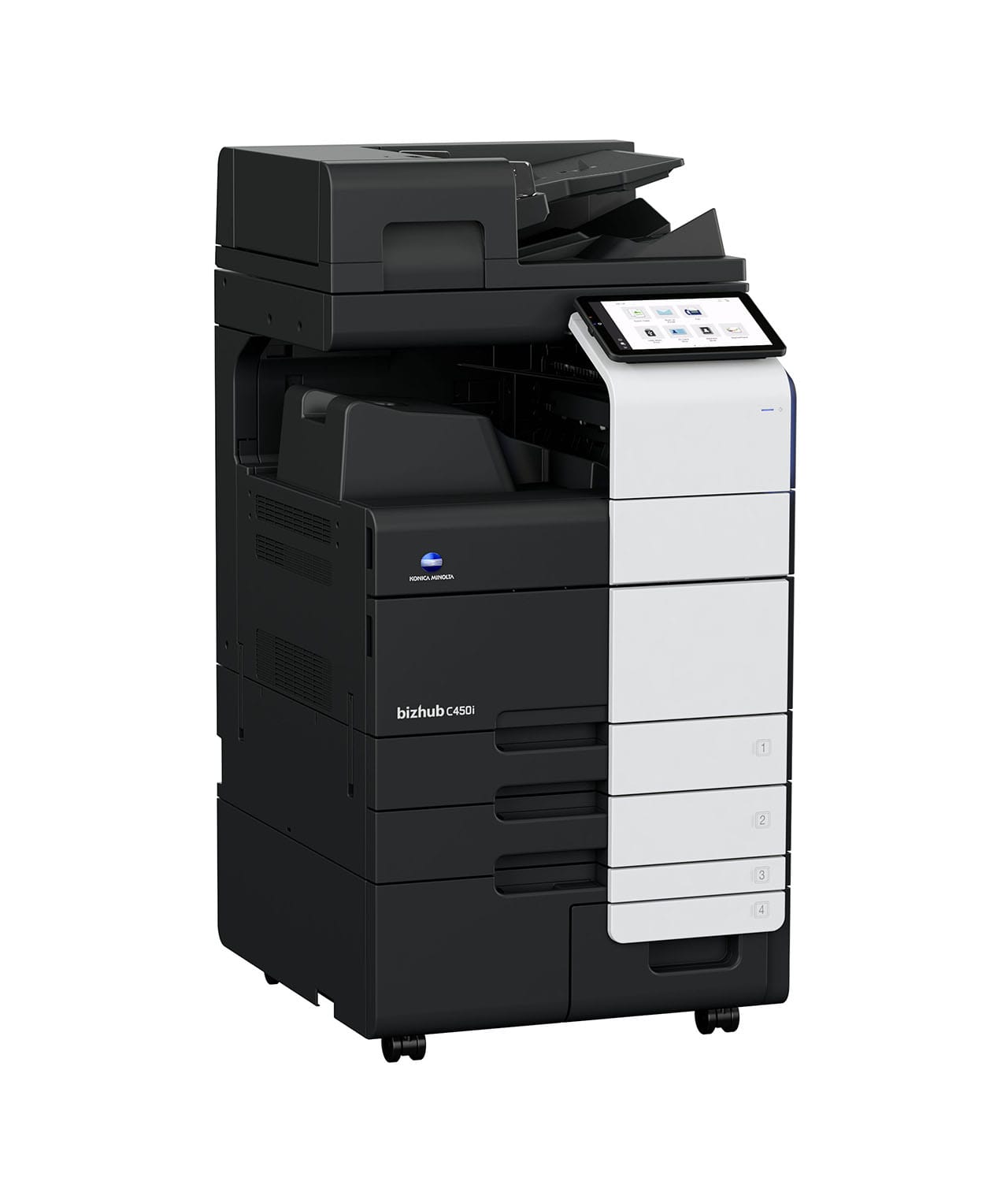 bizhub C650i/C550i/C450i
Introduction to the Product Concept 'Simple & Secure'


The i-Series houses a powerful engine, a quad-core central processing unit with standard 8 GB of memory and 256 GB SSD, which allows for quick-response, high-performance operations. With an additional combination of full-speed media printing range, high-speed single pass dual scan doc feeder as well as finishing options, digital skew correction, and large capability trays, expertly blends reliable functionality with versatile serviceability.
---
A3 Colour MFP
C650i
C:65ppm / BW:65ppmC550i
C:55ppm / BW:55ppm

C450i
C:45ppm / BW:45ppm


Recommended for:

Mid-large offices
Advance color printing
10-30 users
Expandable finishing options

This bizhub printer is covered
by our Contactless Services Support.
Click here to learn more about CSS
Overview
A NEW WAY OF WORKING HAS ARRIVED
As office documents become more digitised and data volume increase, document management and access assume more importance than ever. Remote access and cloud integration also heighten the need for security.
Multifunctional Printers (MFP) are now expected to connect people, places, devices simply and safely to create a new way of working.
Easy-to-use, new operation panel design
The operation panel features a new simple GUI (Graphical User Interface) design. Features such as removal of hard keys and panel vibration feedback emulates familiar smart devices and enable easy use of a variety of IT services. Simplicity of operation has been achieved by concentrating on frequently-used functions to minimise functions and screen transitions.
User friendly, large 10.1-inch touch panel
The 10.1-inch panel has been newly developed from the customer's perspective. It delivers better legibility and ease of enables smooth, intuitive tablet-like operation.
Adjustable tilt operation panel
The operation panel can be freely tilted to a maximum of 90 degrees to suit individual users.
Indicator lights
bizhub C650i series has adopted new LED lights that gently front of the MFP. The data light indicates data receipt or accumulation, and the print light reminds users to collect the document from the output tray.
Virus Scanning
bizhub C650i series is equipped with a robust anti-virus software based on an embedded Bitdefender scan engine to ensure safe connection to the MFP via cloud, and across devices including PCs, compared to using whitelist method alone. Latent viruses are time virus scan jobs are available for print, scan and fax functions, while manual or scheduled virus scans are possible for Box and SSD such as SMB folders.
*Requires i-Option LK-116.
Serverless printing in a ubiquitous network
bizhub C650i series achieves serverless printing in a ubiquitous network that outputs previously sent print jobs from any desired printing, it works as a print server, which enables the easy, low-cost creation of a serverless printing system for ubiquitous computing.
*A print system in a ubiquitous network can be created for up to 100 units.
*Each MFP requires the i-Option LK-114 option.
Intelligent Media Centre*
The bizhub C650i series automatically detects paper types, including paper weight and envelopes. Optimal toner adjustment and feeding of a diverse range of paper enables optimal high-quality printing.
A wide range of paper feed options
Paper stack capacity for the standard main unit tray and multi manual feed is 1,150 sheets. Installing optional paper feed cabinets enables paper capacity up to 3,650 sheets. Further installing a large capacity unit achieves a maximum volume of 6,650 sheets*. Reducing paper tray refill frequency cuts downtime
*When the paper feed cabinet PC-416 or PC-417 option and the large capacity unit LU-302 option are installed.
Manual stapling supported finisher
The manual stapling function in the finisher lets the user quickly re-staple an original document that had its staple removed for copying, or when he or she forgets to choose a staple setting when printing.
Optional finisher FS-539 or FS-539SD or FS-540 or FS-540SD is required.
Outstanding scan performance
Single Pass Dual Scan document feeder, achieves high-speed scanning of 280 ipm (140 double-sided sheets per minute). Up to 300 sheets can be loaded at any one time, significantly reducing scanning time and effort. The precision of automatic skew correction, which adjusts the angle of the scanned original, has been greatly improved to deliver highly accurate scanning with less skew.
Double feed detection sensor
Applying ultrasonic waves to the original distinguishes a layer of air between each page and detects double fees. When a double feed is detected, a preview of the original that has already been scanned will be displayed so that the job can be restarted without repeating the whole scanning operation from the beginning.
Digitisation of paper documents
Documents can be scanned and converted to PDF or OOXML format files. File format can be selected according to the business and intended use, which broadens the scope of secondary use.
Scan to PDF / Scan to OOXML image (with LK-110 v2 installed)
Improve scan job efficiency
Scanned originals can be converted to a variety of document formats according to the application and stored in the bizhub's box or a USB flash drive.They can also be sent and stored to a PC or server via email, SMB, FTP, or Web DAV.
Contactless Service Support – Digital Doctor Suite
The Digital Doctor Suite provides an advanced, full coverage and proactive maintenance and remote support for Konica Minolta bizhub multi-functional product (MFP) series which improve customer daily business uptime with minimal physical contact. This service subscription is able to perform different remove services level functions, and deliver a report without any close contact interactive.
---
Download Brochure
For an obligation free demo or for more information about Konica Minolta's solutions, please email your requests to marketing.1@konicaminolta.com
Download Brochure