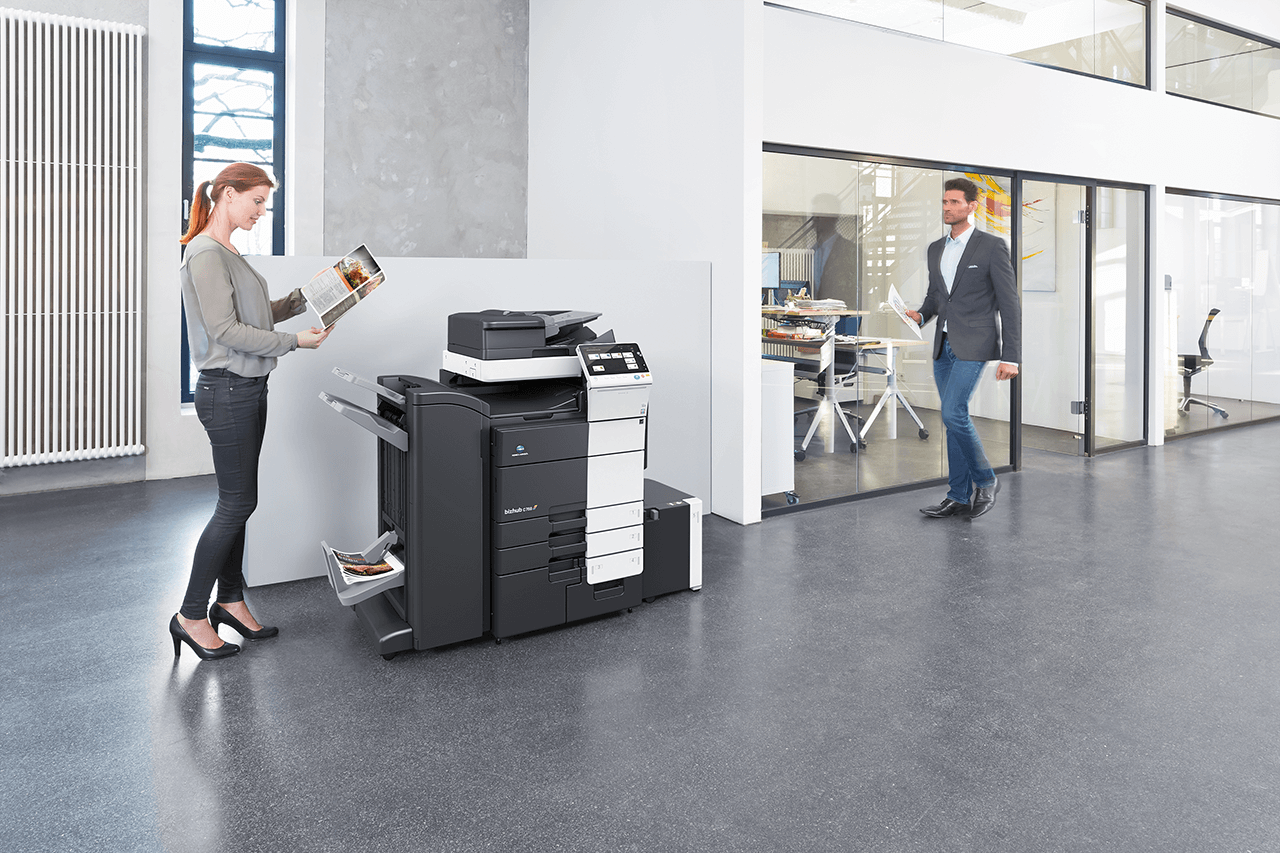 bizhub C759/C659
Empower Business Productivity


Superior color, advanced connectivity, high-speed scanning, a standard web browser and an award-winning InfoPalette control panel design make the bizhub C759/C659 color multifunction printer an ideal document solution for high-volume applications.
---
A3 Colour MFP
C759
C:75ppm / BW:65ppm

C659
C:65ppm / BW:65ppm


Recommended for:

Mid-to-large offices
High print volume
In-house print room / center

This bizhub printer is covered
by our Contactless Services Support.
Click here to learn more about CSS
Overview
Empower Business Productivity
Large capacity ADF featuring top-of-the-class performance
Furnished with a maximum stacking capacity of 300 sheets and high-speed scanning capability of 240 ipm (duplex). The multi-feed detector*1 improves scanning speed to enhance the efficiency of high-volume scanning work essential to legal offices and educational institutes.
Easy-to-view, easy-to-use 10.1 inch panel
The large 10.1 inch touch panel is furnished with multi-touch capability and also features a mobile touch area (NFC) to connect to mobile devices. 4GB is allocated to the memory so that OpenAPI and IWS applications can be operated with ease using the large size screen.
Built-in Z-fold finisher FS-537
A Z-fold option can be incorporated into the FS-537 finisher to enable the performance of multiple tasks in a compact space. Up to 100% productivity is realised for punching and stapling jobs to provide rapid response to printing and copying needs.
---
Mobile Connectivity
Mobile & cloud-based solutions supported
Greater affinity with mobile devices and various cloud-based services enables realisation of a seamless workflow structure. Because the solution software and the operation methods are common among all bizhub series, the operator can perform smooth operation without hesitation, achieving a high efficiency in job handling
---
Streamlined Workflow
Hardcopy digitisation
Scanned hardcopies can be saved as searchable PDFs*1 or editable files in the PowerPoint, Excel or Word format*2. The files are small with excellent image quality and can be saved in the internal HDD or mobile devices.

*1 Optional i-Option LK-102 v3 or LK-110 v2 is required.
*2 Editable Excel/Word formats require optional i-Option LK-110 v2.
Faster scanning speed and precise outputs create smooth workflow
The dual scan document feeder features a 300-sheet paper holding capacity and impressive duplex scanning speed of 240 ipm. Its high productivity supports business efficiency and speed, while its instant scanning and copying meet customers' high-volume demand. An error message appears when multiple feeding is detected*1. The scanned document can be previewed on the screen to determine where scanning should be resumed.
*1 Optional Multi-feed detection Kit UK-501 is required.
---
Download Brochure
For an obligation free demo or for more information about Konica Minolta's solutions, please email your requests to marketing.1@konicaminolta.com
Download Brochure