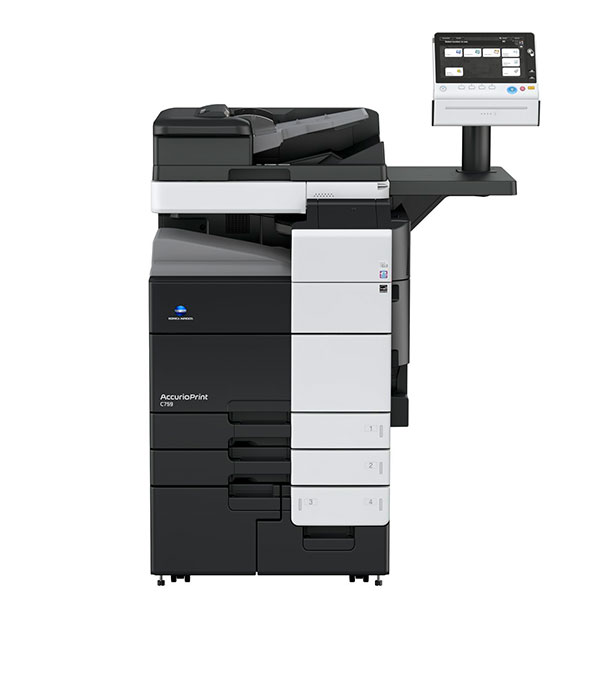 AccurioPrint C759
Empower Business Productivity


The top-of-the-class scanning and output speed of this Entry Level Color Production Printer (ELPP) combines good print production capabilities with high durability. Its high input and output productivity meets the sophisticated needs of large offices and Corporate Reprographic Departments.
---
65ppm / colour
75ppm / black & white
Low Environmental Impact
Good print production capabilities
Advantages
Key Features
Functionalities
Advantages
ADVANTAGES WITH THE AccurioPrint C759
HIGH END PRINT CONTROL
Internal EFI controller
Command workstation
Optional Fiery productivity package
For intuitive operations
To save time and money
ENVIRONMENT AWARENESS
Low power consumption
Contains recycled plastic and bioplastic
For reduced environmental impact
Improved efficiency based on green values
MOBILE & CLOUD-BASED SOLUTIONS SUPPORTED
Greater affinity with mobile devices and various cloud-based services enables realisation of a seamless workflow structure. Because the solution software and the operation methods are common among all AccurioPrint series, the operator can perform smooth operation without hesitation, achieving a high efficiency in job handling.

DURABLE PERFORMANCE
Up to 65 A4 pages in colour
Up to 32 A3 pages in colour
Enhanced overall scanning performance for scanning and copying
For higher productivity
For more jobs in the print room

EASE OF USE
Innovative 10-inch capacitive colour touch screen panel
Pop-up windows open for all function settings
Seamless integration into document workflows
For maximum ease of operation
Frees operators for more important jobs
---
Download Brochure
For an obligation free demo or for more information about Konica Minolta's solutions, please email your requests to marketing.1@konicaminolta.com
Download Brochure
Key Features
Key Features
Speed A4/A3: colour 65/32 ppm; black & white 75/37 ppm
Paper formats: A6-SRA3, custom formats and banner format up to 1.2 metres length
10-inch colour touch panel with multi-touch support and dedicated mobile touch area provides more convenience and flexibility for today's work style
Dual-scan document feeder scans recto and verso of double-sided originals in one run at a speed of 240 ipm
Perfect platform for productive office environments with modular finishing and paper tray options
---
Technology Matrix
Easily compatible to users and IT environments thanks to Konica Minolta unified print technology
> Emperon™ Controller
Pays off to budget and green footprint by high quality and low environmental impact
Improved user-device interaction and productivity by full ELPP panel customisation to your needs
>

IWS Internal Web Service
Enable efficient workflows throughout your ELPP fleet by server-based applications
> OpenAPI Technology
Increase the scope of ELPP functionality from basic to advanced depending on your needs
> i-Option Technology
Keep productivity up by online device and consumable monitoring of the Konica Minolta service
> CS Remote Care
---
Download Brochure
For an obligation free demo or for more information about Konica Minolta's solutions, please email your requests to marketing.1@konicaminolta.com
Download Brochure
Functionalities
Functionalities
Print
MyTab
Print driver customisation
Carbon Copy print
Single page printing from multiple trays
Direct print
Driverless printing of PDF, XPS, DOCX, XLSX, PPTX, JPEG, TIFF, PS and PCL
Smart job queue
Unprintable jobs e.g. because of unavailable paper size (copy, print and fax) are bypassed by consecutive jobs
Toner save mode
Helps save toner by reducing toner consumption e.g. for draft prints
Mobile Printing
Possibility to directly print documents from a mobile device
---
Copy
Job preview
Illustrates selected copy functions on screen
Custom function bar
Up to 2 x 7 copy functions can be freely selected for the main copy screen
Copy protection
Prints a concealed security watermark in the background that appears when copied
Blank page removal
Automatic deletion of blank pages e.g. when copying mixed simplex and duplex documents
Card shot
Prints copies of the front and back of the original on the same page, e.g. for passport and other ID
---
Scan
Scan-to-Me/Home
Direct scan to own email address (Me) or SMB folder (Home) based on Active Directory information
Blank page removal
Automatic deletion of blank pages e.g. when scanning mixed simplex and duplex documents
Scan preview
Provides a real-time preview of scanned originals for checking before sending
Scan programs
Pre-setting of original, scan file and destination for regular scan jobs
Scan to url
Reduce the load on the company network by sending a simple url to the recipient instead of a big file
---
Fax
IP-Fax
Sending of fax messages via network between Konica Minolta ELPPs; supports colour as well as black & white
PC-Fax
Direct fax transmission from the PC
Fax forwarding
Forwarding of incoming fax documents by email or to SMB folder instead of printing
Shared address book
The ELPP-internal address book can be shared with the PC fax client
Tray selection
Choice of input tray / print media and output tray for easy visibility of incoming faxes
---
Box
Box function
Storing of print, copy, scan and fax jobs for recall to send and print – for frequently printed documents like brochures, forms, pricelists etc.
Personal, Group and Public
User access definition for different boxes
Sharing
Copying of documents from user box to user box
Online access
User box file access via web browser or box operator utility
Auto deletion
Automatic deletion of files stored in a user box after a predefined period
---
Security
Authentication
User access by password, user name + password, ID card or finger vein scanner
Data encryption
Encryption of data stored on hard disk and password protection for hard disk access
Network security
Support for SSL/TLS, HTTPS, 802.1x and IPsec
bizhub SECURE
Konica Minolta Security consultancy and ELPP setup
Temporary data deletion
Copy, print, scan and fax job data are automatically deleted after job completion
---
Green
Dynamic eco timer
Automatic analysis of working hours and adjustment of sleep mode timing
Weekly timer
Sleep mode timer setting on day and date basis
ECO meter
Counter for ECO related items e.g. power consumption
Simitri HD toner
Includes biomass
Conforms to international environmental standards
Like Energy Star or Blue Angel Mark
---
Finishing
---
Download Brochure
For an obligation free demo or for more information about Konica Minolta's solutions, please email your requests to marketing.1@konicaminolta.com
Download Brochure