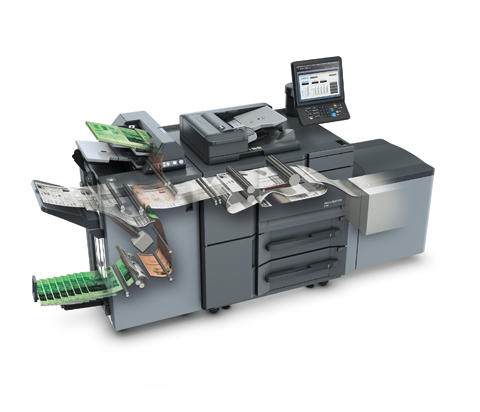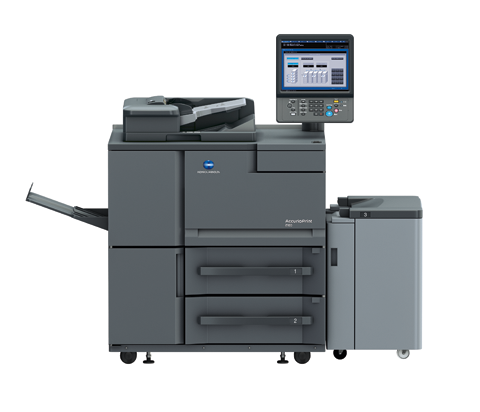 AccurioPrint 2100
STREAMLINED INPUT AND OUTPUT FOR MONOCHROME PRINTING


The AccurioPrint 2100 delivers real value to any print production environment – with high-speed 100 ppm B&W output, high paper and toner capacity, standard built-in print controller and compact footprint to save space on your production floor.
Overview
A NEW WORLD OF MONOCHROME PRINTING
INTRODUCING THE AccurioPrint 2100 FROM KONICA MINOLTA
The AccurioPrint 2100 delivers real value to any print production environment – with high-speed 100 ppm B&W output, high paper and toner capacity, standard built-in print controller and compact footprint to save space on your production floor. Dedicated to central in-house printing facilities and external print-for-pay services – this device provides sturdy construction, high performance and smart inline finishing options teamed up with advanced technology for enhanced B&W print quality. Be more productive with high-performance color scanning capability with dual scanning ADF in combination with the powerful print engine.
Maximise your investment
We want to make sure that you get the most out of your AccurioPrint 2100 – that's why we have improved set-up times to enhance your production time. Combined with one of our software offerings you can automate your workflows and increase the benefits of your investment.
Improve efficiencies
Operators of our production systems can count on simple setup, an ultra-reliable paper path, exceptional productivity and outstanding automated image stability. Our R&D Team has put highest priority to fullfil today's high demands in the printing industry
A smart engine does it all
The AccurioPrint 2100 is the production machine that you can fully rely on. It offers a variety of inline finishing options to meet your clients' every need in one process.
---

INNOVATE PRINT
RETHINK TECHNOLOGY
Konica Minolta's own advanced colour processing technology of the second generation is called S.E.A.D., which stands for "Screen-Enhancing Active Digital Process", and combines an array of technical innovations to guarantee truly exceptional colour reproduction at top speed. S.E.A.D. includes these important capabilities:
Pioneering technologies
Linkage with common solutions applications such as OpenAPI and IWS to utilze with common applications used in the various printing environments such as accounting, scanning or customized panel functions.
Convenient front-to-back registration adjustment
AccurioPrint 2100's front-to-back adjustment function automatically adjusts image position by using the original platen surface. The front-to-back side position and discrepancies in magnification are easily corrected, vastly improving the efficiency of registration adjustment.
Media Detection Sensor
The optional media sensor IM-101 automatically detects the type, weight, thickness and surface of each substrate, and proposes the appropriate paper settings from the catalogue, which makes wrong paper settings a thing of the past avoiding misprints and waste.
---
STREAMLINE YOUR PRODUCTION
RETHINK YOUR WORKFLOW
Evolving from our expertise in precision technologies and more than 80 years of experience in the printing and imaging industries, AccurioPro reflects our commitment to developing market-shaping technology with functionality that enables your business to grow. AccurioPro, Konica Minolta's suite of digital solutions for professional printing, is one of the industry's most versatile and powerful tools to optimise print production operations and workflows.
For all printing companies looking to integrate their printing as well as businesses that use digital printing to produce their own in-house publications and promotional materials, AccurioPro boosts speed and efficiency, expands capabilities and services, and reduces the need for operational manpower – all of which will help improve your profitability!
The comprehensive suite of features that AccurioPro offers includes centralised management, software for automated workflow processing, colour management, seamless integration of different printing technologies and full connectivity of all Konica Minolta printing systems used from input to output.
---
AccurioPro POSSIBILITIES
RETHINK YOUR WORKFLOW
---
---
EXPLICIT PRINT SERVER
RETHINK YOUR USER EXPERIENCE
KONICA MINOLTA'S OWN CONTROLLER TECHNOLOGY
High-resolution printing is attributed to a real output of 1,200 dpi. Thin lines for tables, graphs and multi-gradient images are vividly reproduced, contributing to the creation of persuasive documents.
When colour documents are printed, the input image is converted into CIE color space and then into the main unit's color space the main unit processes rich gradients while maintaining high productivity.
AccurioPro Print Manager is a standard tool that helps you to get the most our of your print production with fast and easy job management. It offers various functions to improve the overall workflow such as job monitoring, editing or hot folder functions.
---
TAKE LEADERSHIP AND RESPONSIBILITY
RETHINK TOMORROWS BUSINESS
MADE FOR YOUR BUSINESS Commercial printers
Growing your business and getting the maximum out of your investment is what the AccurioPrint 2100 series promises. The high speed, high productivity and high uptime help you achieve shortest turnaround times. Combined with great media flexibility with stocks of up to 350 g/m2, you further enhance the offerings of your print shop. Quality issues are a thing of the past, as these presses offer a wide range of tools to control and adjust themselves.
Inplant Printing
AccurioPrint 2100 support a high degree of automation and yet also ensure high-level quality. Professional inline finishing produces ready-made print products at the click of a finger. Their versatile media flexibility and high productivity make AccurioPrint 2100 a solid and lucrative investment for the future.
DESIGN FOR OUR PLANET
Konica Minolta promotes sustainable development and integrates environmental and social perspectives into its business strategies. You can rely on Konica Minolta products to underpin your green strategy to build your business.
Committed to help prevent global warming, Konica Minolta strives to reduce CO₂ emissions during product manufacture, product distribution, at the sales stage, and during product use – with even stricter targets than demanded by the Kyoto Protocol. Enabling carbon neutrality, Konica Minolta offers its customers the offset of unavoidable CO₂ emissions for production printing. Together with the experts from Climate Partner, Konica Minolta proposes a new and profound eco concept for our professional production presses.
---
---
---
Download Brochure
For an obligation free demo or for more information about Konica Minolta's solutions, please email your requests to marketing.1@konicaminolta.com
Download Brochure