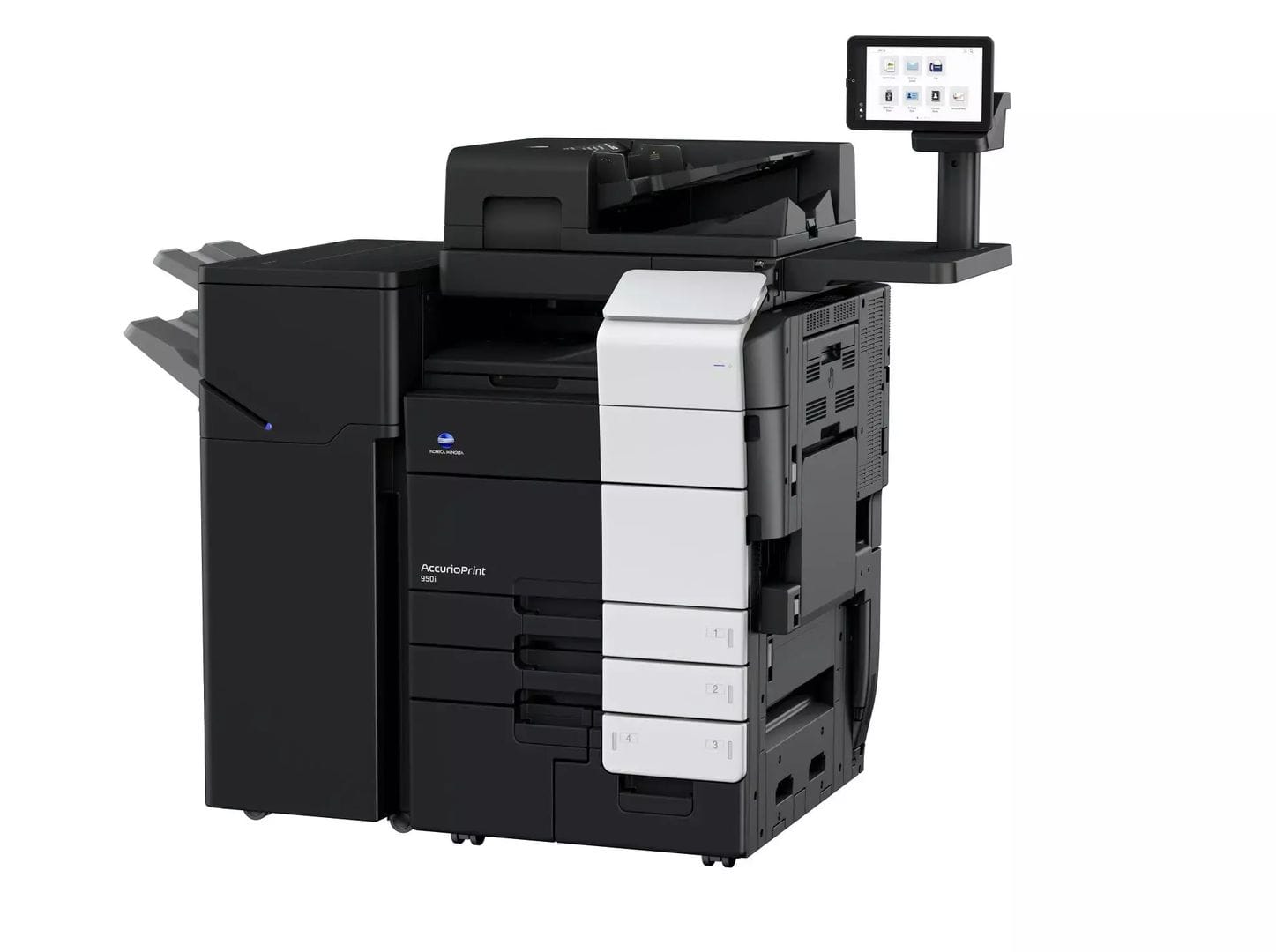 AccurioPrint 950i
SMART FACTORY PRINTING


In today's fast-paced enterprises, simple operability and high-quality performance are preconditions to achieving maximum efficiency and completing all office work quickly and without fuss. At the same time, the full integration with cloud services should provide the right processes at the right time to build more convenient workflows. The AccurioPrint 950i offers all this and more. On top, it is equipped with the latest security technology to ensure a reliably safe user environment.
Overview
Grow your business
We place great importance on empowering you to grow your business with our solutions. For instance, the two monchrome devices helps enhance diversity with its extensive variety of supported media, from thin to thick paper (up to 300 g/m2). They also processes envelopes and prints on long sheets of up to 1200 mm in simplex.
Improve customer loyalty
Equipped with an innovative media sensor, the devices automatically detects paper type and weight and reliably applies the right settings – which guarantees an optimized output quality. The sensor also detects envelopes saving time and minimizing the need for operator intervention. A new paper cabinet allows mixed-size paper loading, further enhancing user convenience.
Maximise your investment
We want to make sure that you get the most out of your AccurioPrint – that's why we have changed the user interface and made it entirely customizable for more convenience. Combine your printing system with various inline finishing capabilities and produce more than ever, with idle times kept to a minimum.
---
THE ULTIMATE IN DIGITAL CONNECTIVITY
Achieving a level of durability and build solidity never before seen on an entry level production printer, the AccurioPrint 950i has been designed to perform and is built to last. Outstanding print stability is achieved thanks to multiple improvements to basic functionality. The i-Series' signature stylish and simple look is married with the ultimate in digital connectivity to create an office environment that supports your work from page one to page infinity.
Intuitive operability
Operate the AccurioPrint like a smartphone or tablet with fully customized user interface.
Productivity
Reliability, high-speed scanning and printing, combined with powerful finishing functions.
Security
Secure network integration, data encryption, hard drive overwrite, and advanced user authentication.
Mobile connectivity
Print anytime from anywhere with Konica Minolta's innovative mobile technologies.
---
TAKE LEADERSHIP AND RESPONSIBILITY
MADE FOR YOUR BUSINESS
The AccurioPrint 950i is designed to provide all the functionality of a small-scale print shop, all combined into a single unit suitable for an office space. This makes it ideal for a wide range of offices, government, legal, education, membership organizations and healthcare. As a AccurioPrint, the 950i offers an entirely digitized workspace, providing smooth workflow and managed content services that make it the ideal choice for a broad range of situations.
DESIGNED FOR OUR PLANET
Konica Minolta promotes sustainable development and integrates environmental and social perspectives into its business strategies. You can rely on Konica Minolta products to underpin your green strategy to build your business.
Committed to help prevent global warming, Konica Minolta strives to reduce CO2 emissions during product manufacture, product distribution, at the sales stage, and during product use with even stricter targets than demanded by the Kyoto Protocol. Enabling carbon neutrality, Konica Minolta offers its customers the offset of unavoidable CO2 emissions for production printing. Together with the experts from Climate Partner, Konica Minolta proposes a new and profound eco concept for our professional production presses.
---
---
CUSTOMER BENEFITS
Intuitive operability
Operate the bizhub like a smartphone or tablet with fully customised user interface.
Security
Secure network integration, data encryption, hard drive overwrite, and advanced user authentication.
Application ecosystem
Enhanced efficiency thanks to Konica Minolta's extensive applications portfolio.
Productivity
Reliability, high-speed scanning and printing, combined with powerful finishing functions.
Services
Efficient printer fleet management, including automatic consumables delivery, pro-active maintenance and remote setup.
Sustainability
Numerous eco features reduce energy consumption and costs.
---
---
---
Download Brochure
For an obligation free demo or for more information about Konica Minolta's solutions, please email your requests to marketing.1@konicaminolta.com
Download Brochure